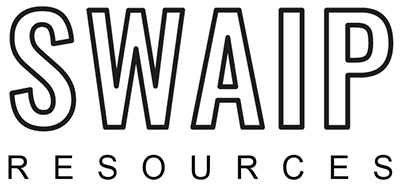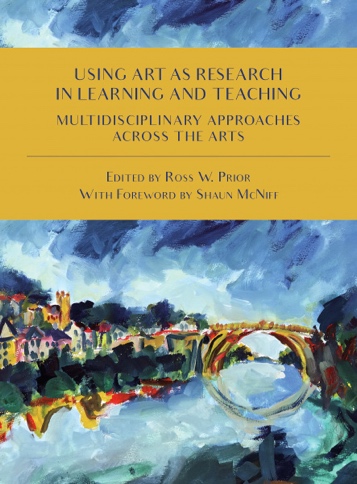 'Not sure': The Didactics of Elusive Knowledge
Very descriptive and philosophical article about the role of an "insecure feeling" in the development of personal knowledge and in the development of skills – in the field of aesthetic research and in the field of personal development.
Differentiation between implicit and explicit knowledge – survey about personal knowledge.
Example of how artistic teaching and creative – artistic experience can contribute to the development of knowledge, with an acceptance of insecurity as an contribution in perception and research.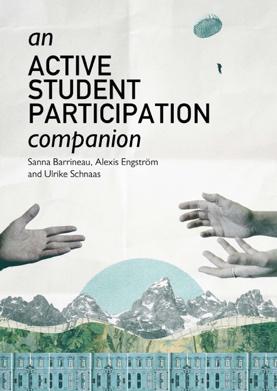 An Active Student Participation Companion
In this book the authors along with some of their students set forth to define students participation and its aims. In chapter four they also give the readers tools to engage students and educators in developing and thinking critically about active student participation initiatives. The authors encourage teachers and students to meet, talk about and reflect on teaching activities – and what ideas they have on learning. More students participate in the study call for more peer learning and sharing.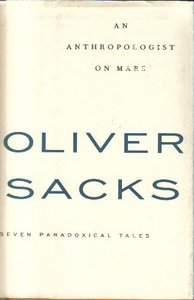 An Anthropologist on Mars: Seven Paradoxical Tales
In his introduction, the neurologist Oliver Sacks explain the brain's remarkable plasticity, its capacity for the most striking adaptations. Such a remark leads us to question concepts like "health" and "disease", and what is more, opens our vision to approach new realities.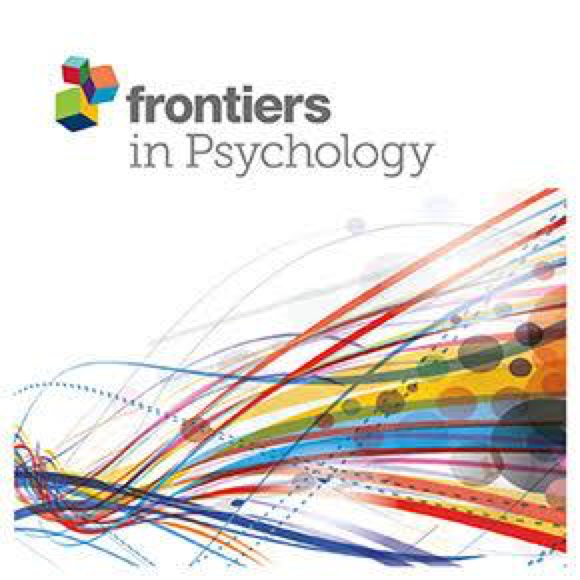 An island of stability: art images and natural scenes – but not natural faces – show consistent esthetic response in Alzheimer's-related dementia
This publication has researched people with dementia who still have aesthetic sensitivity despite being severely affected in other areas, such as short-term memory loss. So there seem to be neurological skills that are still there, especially in the perception of handmade paintings. The authors speak of "islands" that have a stabilizing effect.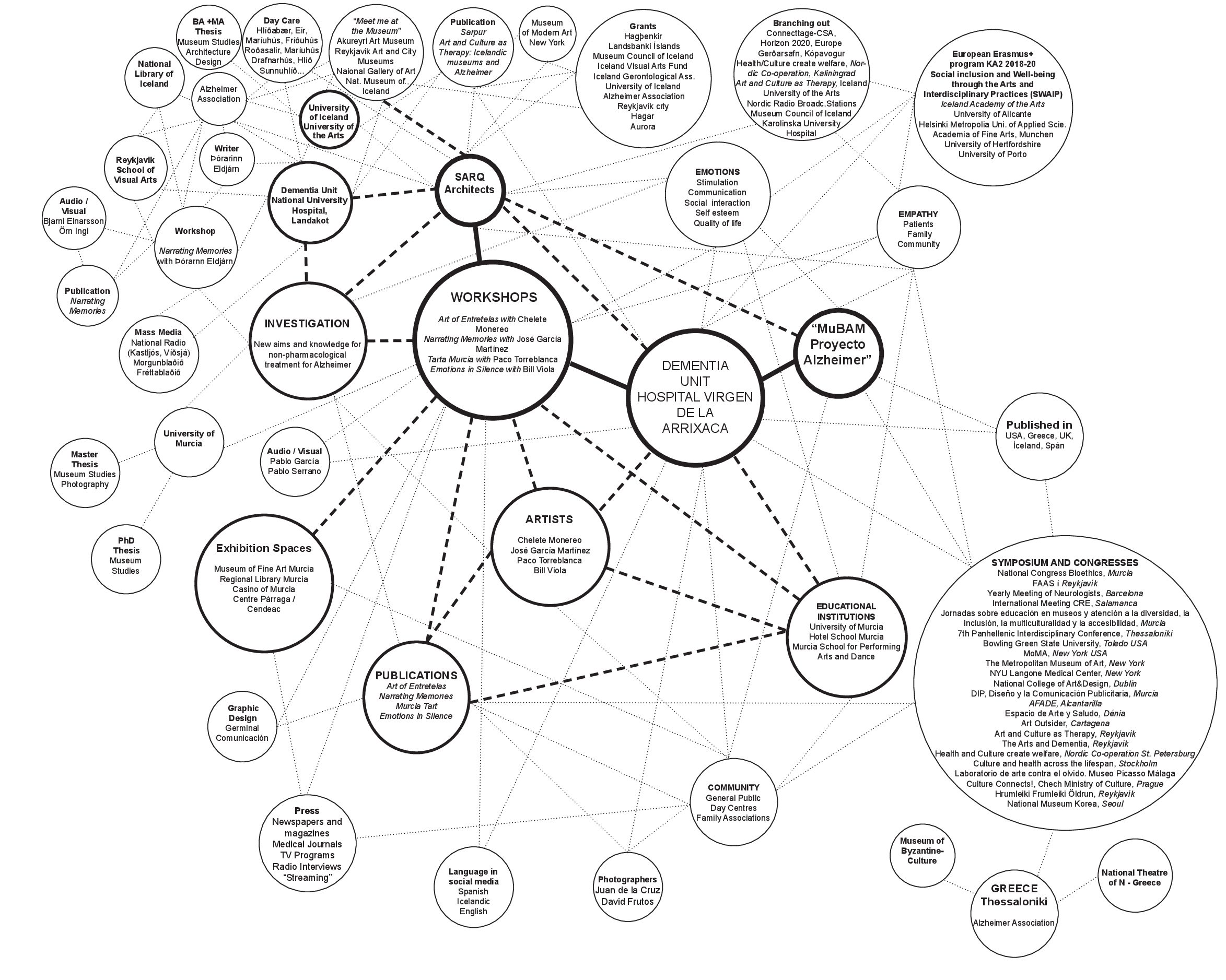 Art and Culture as Therapy. Website
Art and Culture as Therapy for Alzheimer's is an innovative initiative from the Dementia Unit at the Hospital Virgen de la Arrixaca in Murcia: opens up the debate about the Alzheimer's disease (AD) towards a new line of research where the arts join science. The project has offered new paths and forms of stimulation in order to enrich the field of non-pharmacological treatment for AD. Among the aims are: to improve patients' quality of life and self-confidence; generate a link between the past and the present by creating bridges between existing neurons through emotional memory; to encourage an expression of empathy and to encourage interaction and communication as well as to create new measuring tools for check-up control.
The website offers access to the project's activities and publications: "The Art of Entretelas" with the painter Chelete Monereo, "Narrating Memories" with the journalist José García Martínez, "Frásagnir minninganna with the writer Þórarinn Eldjárn", "Murcia Tart" with the pastry chef Paco Torreblanca, "Emotions in Silence" with the video artist Bill Viola, and "MuBAM Alzheimer Project".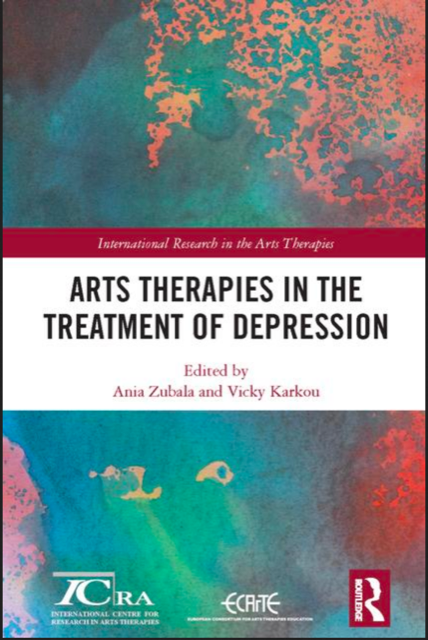 Art therapy to Address Emotional Well-being of Children who have Experienced Stress and/or Trauma
ISBN: 9780367487843, 0367487845 and eText ISBN: 9781315454399, 1315454394
This reference is partly about the way in which art making creates a fresh understanding and a new kind of relationship to the project worked with. The process of creating art leads to increased understanding and awareness, which connects to personal meaning. As a result, the understanding of the project can be more meaningful, as opposed to understanding that is formed solely by reading and writing, which is more connected to a linear process. The subject is discussed in terms of a research project and how such drawing can facilitate coursework learning and at the same time serve therapeutic purposes.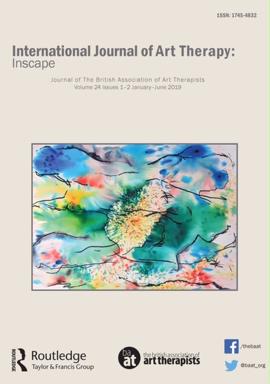 Art therapy to reduce burnout in oncology and palliative care doctors: a pilot study
Pages 12-20
Doctors are frequently exposed to work-related stressors putting them at risk of burnout and affecting patient safety. This has long been recognised in oncology and palliative care staff members, with as many as 70% of young oncologists in Europe reporting burnout. Our objective was to use art therapy, which has been shown to combat the symptoms of burnout, on a cohort of trainee doctors in these high-risk specialities. In this pilot study, an art therapist ran three courses for oncology and palliative care trainee doctors, each comprised of six art therapy sessions. The Maslach Burnout Inventory – Human Services Survey (MBI-HSS) was completed pre- and post-intervention and a feedback questionnaire completed at the end of each course. Eighteen participants were recruited. MBI-HSS scores from 14 participants showed that the mean pre-intervention scores of the participants demonstrated burnout. Following the course there were statistically significant improvements in emotional exhaustion (p=< 0.001) and personal achievement (p = 0.011) (removing one outlying participant's score from the latter). Feedback was overwhelmingly positive with most respondents finding the course 'very helpful'. The results of the pilot study demonstrated that six weeks of structured art therapy sessions resulted in positive change in our participants.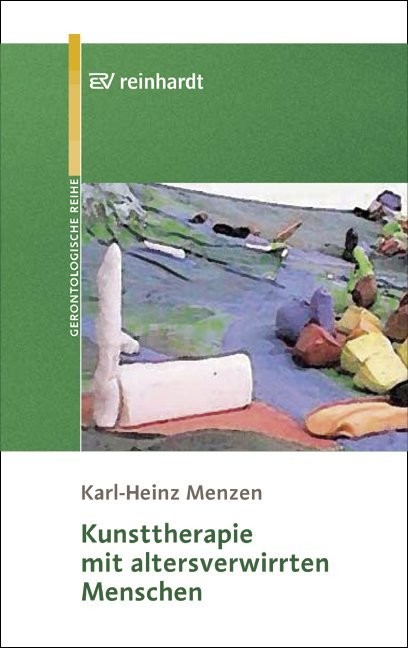 Art therapy with people confused by age
Karl-Heinz Menzen describes and explains neurologically why people with dementia suffer from memory loss. It is the lossof the continuum of time and space (Menzen, 2008, pp. 53-59). Menzen therefore develops art therapeutic methods that activate neurological connections in the brain. Here Menzen has developed a method of reconstructing a citymap with the places of childhood together in the group (Menzen, 2008, pp. 63-65). This stimulates narrative qualities through the telling of the memories that come to life. But also the sensual haptic qualities such as drawing, building or modelling are described as particularly effective. Menzen is a luminary in the art therapeutic work with people in old age.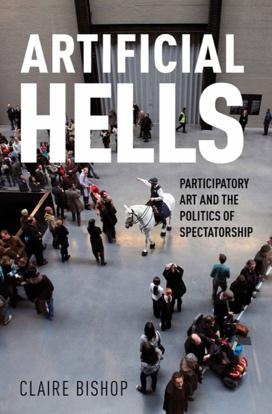 Artificial hells: participatory art and the politics of spectatorship
Artificial Hells is the first historical and theoretical overview of socially engaged participatory art or "social practice." Claire Bishop follows the trajectory of twentieth-century art and examines key moments in the development of a participatory aesthetic. She not only scrutinizes the emancipatory claims made for these projects, but also provides an alternative to the ethical (rather than artistic) criteria invited by such artworks. Artificial Hells calls for a less prescriptive approach to art and politics, and for more compelling, troubling and bolder forms of participatory art and criticism.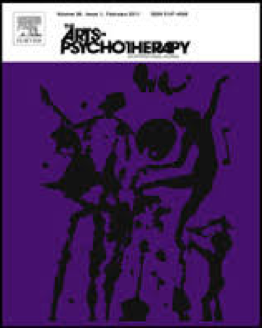 Arts and health: Active factors and a theory framework of embodied aesthetics
DOI: Doi 10.1016/j.aip.2017.02.002
Koch explores the specific artistic factors in artistic therapies. In doing so, she does not limit herself to the visual arts, but also investigates other arts, such as dance, music and movement. Through the multi-dimensionality of her research into aesthetic media, she overcomes rigid classifications of the effects of artistic action. This qualitative study encourages research and the formulation of theses according to scientific criteria in the field of the visual arts and in questions of aesthetics.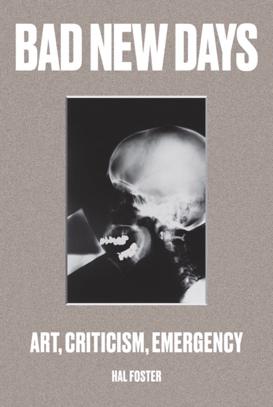 Bad New Days – Art, Criticism, Emergency
This is the last book of the famous American art historian and was written already in Trump times. Here he discusses how art can deals with what he calls Bad New Days and one of the main ideas is the emergency of the present.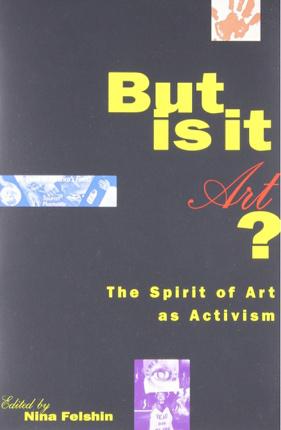 But is it Art? The Spirit of Art as Activism
There were several movements that in the seventies and above all in the eighties of last century discuss the idea of an artist alone and in the loneliness of his/her studio. The authorship was the main question: how to deal with a new collective authorship to legitimize the abandon of the studio for the streets. This movements made a lot of works and the discussion was hard around the question that titles this book. And a new way of artistic work born there: the activism, sometimes closer to daily politics than art practice.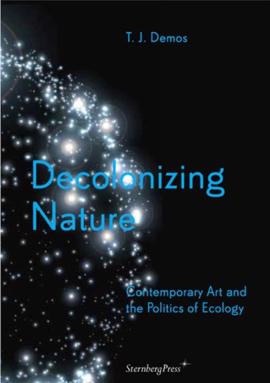 Decolonizing Nature – Contemporary Art and the Politics of Ecology
We are now in the end or the beginning of a new era. One that puts ecology in the center of almost all politics and also of many of the most recent artistic works. This book reflects on some examples of this and analyzes the relation between the two worlds of art and politics under this subject.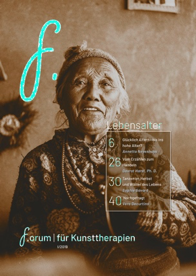 Ein Leben mit Demenz im hohen Lebensalter. Beispiele aus der Kunsttherapie.
A method is described how people with dementia can be accompanied artistically and with art therapy. Reference is made to another method by Karl Heinz Menzen, in which the reconstruction of places from childhood is supported in order to stimulate emotional memory. Using examples from art therapy, it will be shown how in people of old age the memory emerges during painting and finds the language again.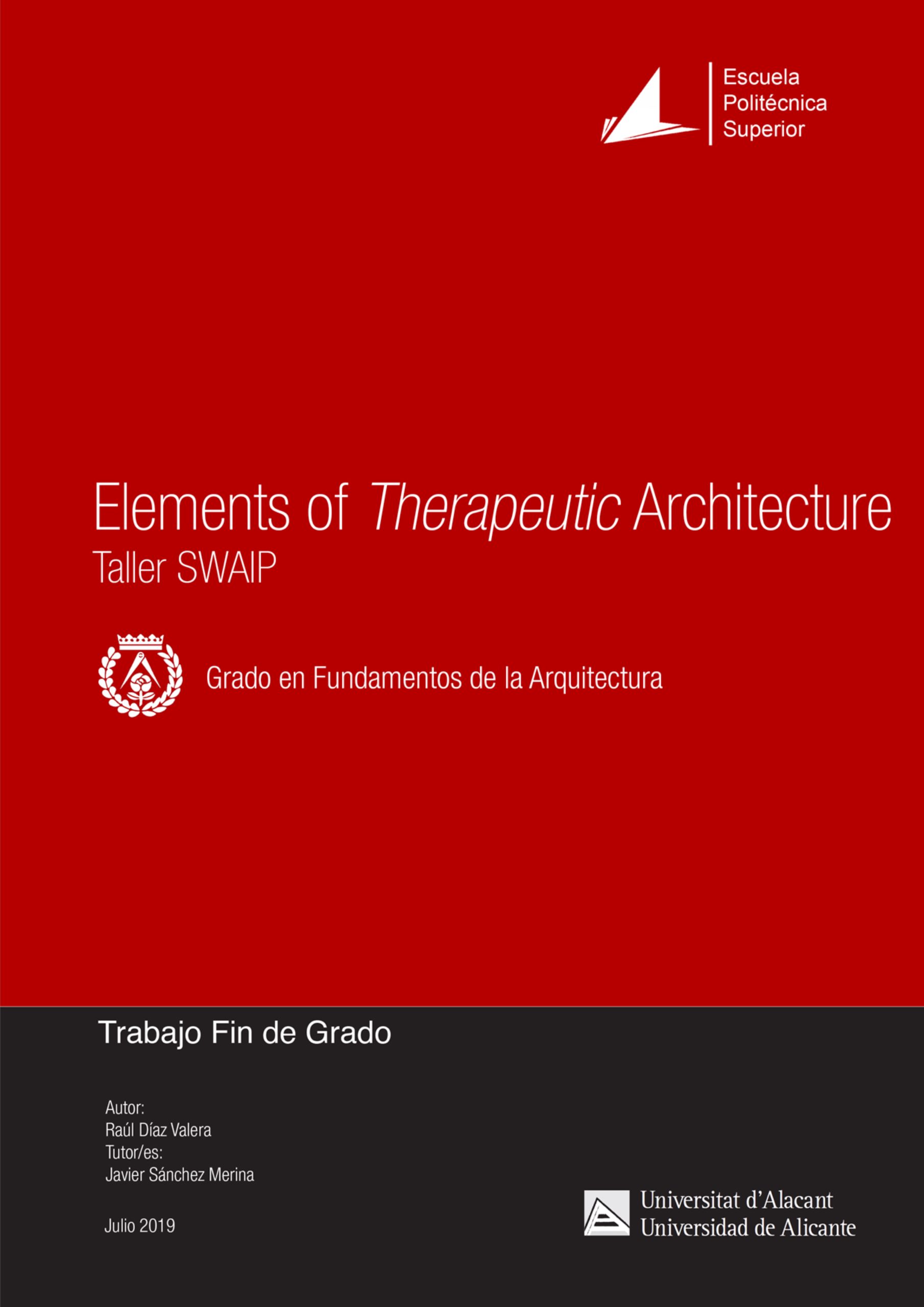 Elements of Therapeutic Architecture. Workshop SWAIP
This Final Degree Thesis is the result of the organization and participation in the International Workshop SWAIP (abbreviations of "Social inclusion and Well-being through the Arts and Interdisciplinary Practices") held last March in the University of Alicante. This proposes to redefine architecture from disciplines such as art, music, therapy or architecture itself, in order to obtain an architectural model that adapts to the conditions and qualities required for the evocation of memories and personal experiences in individuals who live with the disease.
Elements of Therapeutic Architecture completes with this contemporary vision the collection of books Elements of Architecture that the architect Rem Koolhaas published in the Venice Biennial of 2014. Although in those books, the architect talked about the elements in terms of temporal and conceptual evolution without blurring the architectural limit, the extra chapter that adds this thesis shows the qualities that architecture must contemplate as a participant in the fight against Alzheimer.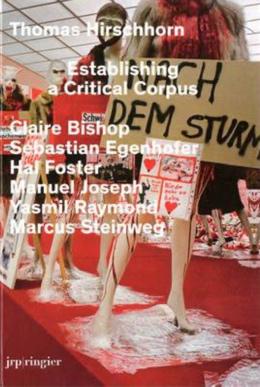 Establishing a critical corpus
Hirschhorn is one of the main artists that deals since the beginning of his career as artist with the importance of the other. For that he have built a corpus of work where in different ways he tries to explore the critical corpus that he wants to develop with the collaboration of different kind of people: from philosophers, art historians but also with anonym people that collaborates with him several times in the three different forms that he developed for working with/in public space (even if he said that for him there's no difference between spaces, public or institutional or even private, he works the same way). This is an important book that reflects on this by the head of important authors of the arts territory.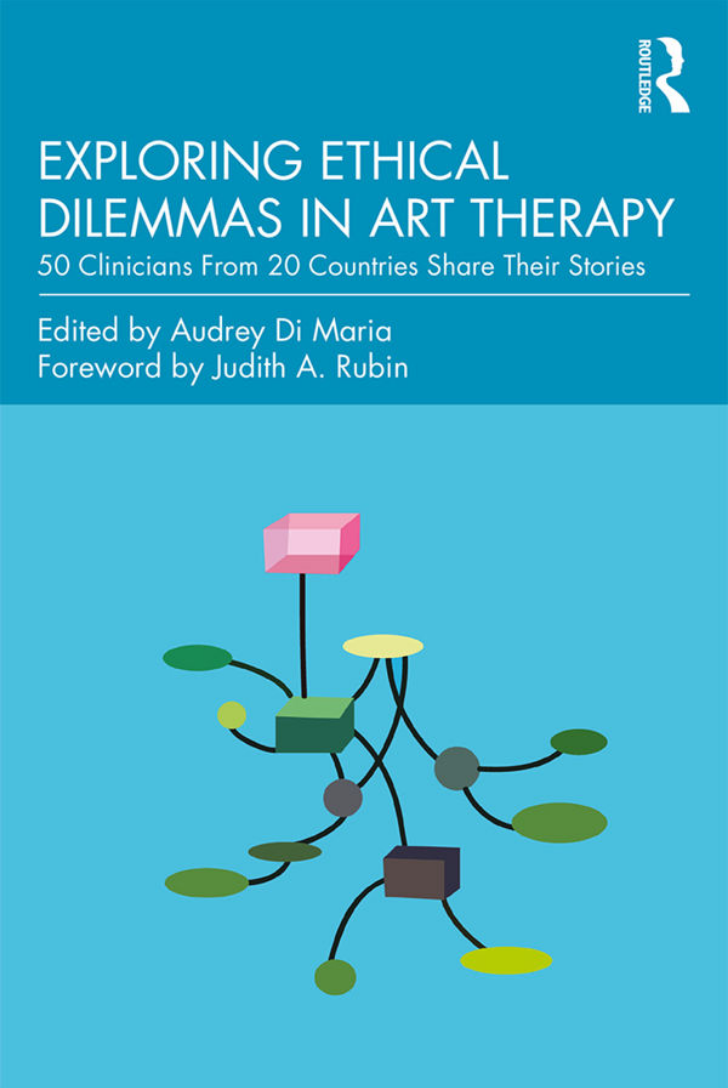 Ethical Concern when Applying Drawing for Memory: Research Conducted in Iceland
A quantitative and qualitative research into memory drawing conducted by Ottarsdottir in 2000 is the subject of this chapter. The study was the first comprehensive research that systematically compared the impact of drawing and writing on memory functions. The memory drawing study is therefore a milestone in the history of art therapy, education, psychology and psychotherapy. Memory drawing is a part of art educational therapy which is a therapeutic and educational method invented by the author and discussed in the chapter. The ethical dilemma presented in the publication relates to the SWIPE program in that memory drawing and drawing in general may tap into sensitive emotional material, which might cause further difficulties if the drawing is facilitated by a person who is unaware of the emotional content that may emerge in the drawing process.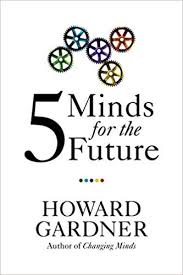 Five Minds for the Future
Gardner argues about the complexity of education and how it is fundamentally about values. He draws out five minds to face the complex world: The disciplined mind; the synthesising mind; the creative mind; the respectful mind; and ethical mind. We are faced with challenges of speed and time, technology and different settings. We should therefore meet that challenge with engagement and not a compromise. The focus should not be on the prize, but think in the long run what kind of human beings we want to be and what kind of world we want to live in.
https://books.google.es/books?id=UIxeC4yylnkC&printsec=frontcover&hl=es&source=gbs_ge_summary_r&cad=0#v=onepage&q&f=false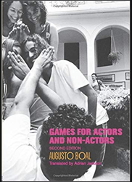 Games for Actors and Non-Actors
Games for Actors and Non-Actors is a book by the founder of Theatre of the Oppressed, Augusto Boal. It sets out the principles and practice of Boal's revolutionary Method, showing how theatre can be used to transform and liberate everyone – actors and non-actors alike! It includes practical exercises and games useful for group work.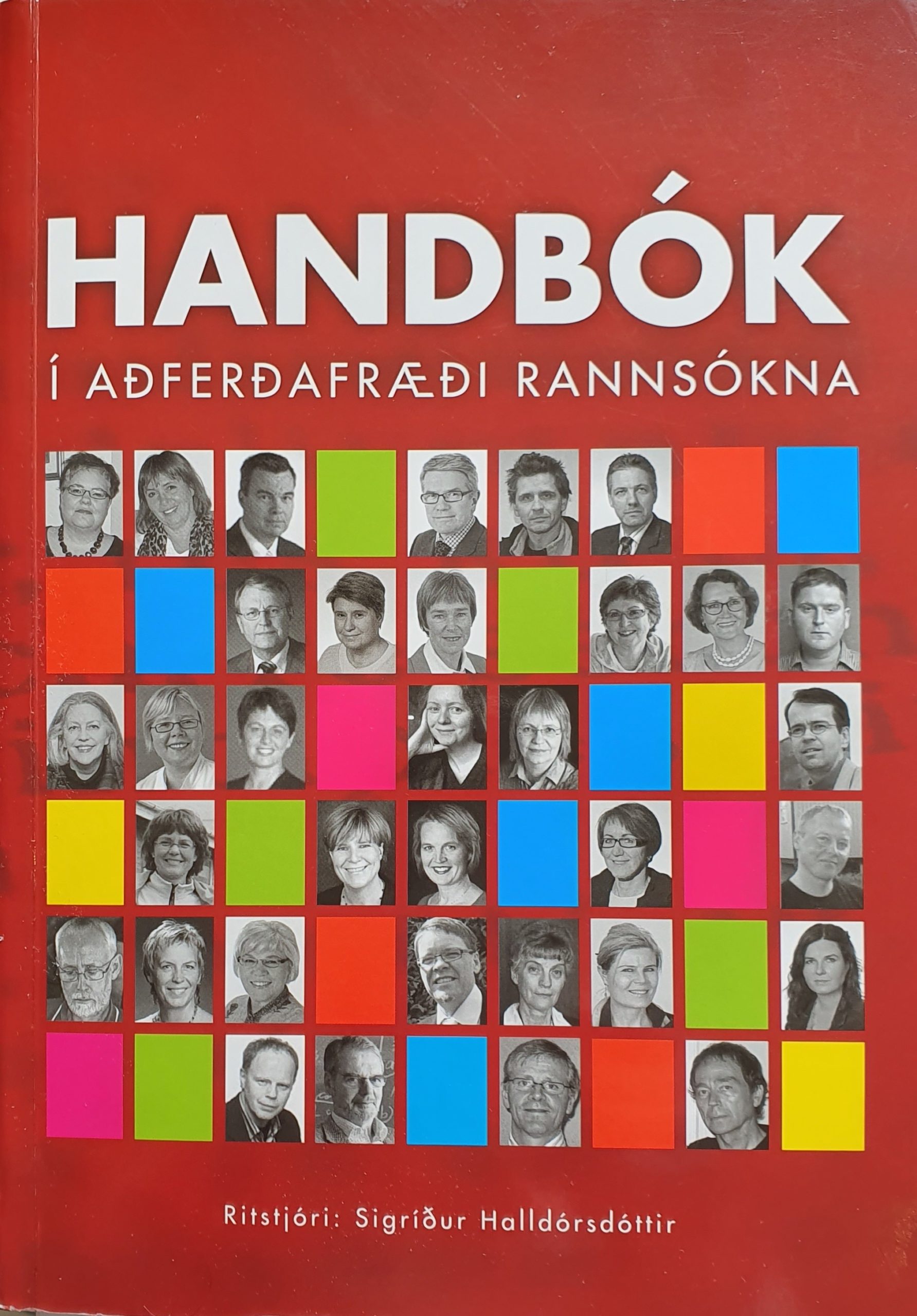 Grunduð kenning og teiknaðar skýringarmyndir. (Grounded Theory and Drawn Diagrams).
In this chapter Unnur Óttarsdóttir explains how she used drawn diagrams in a research where the methodology of grounded theory was applied.  The drawings were applied for:
Creating concepts
Create in-depth understanding about phenomena
Abstract description
Examining the connection between phenomena, categories and concepts
Building theories
Facilitating creativity and intuition.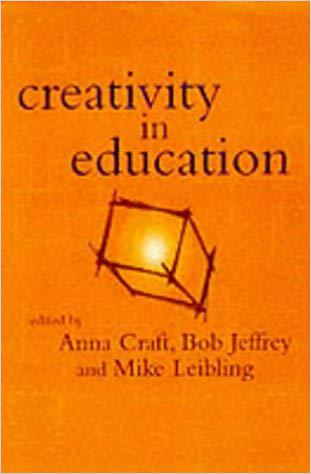 Little c Creativity. In A. Craft, B.Jeffrey, R. Leibling (Eds.), Creativity in education
doi: 10.1016/j.tsc.2012.11.003.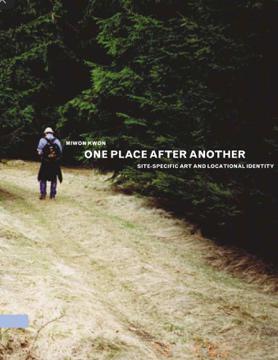 One place after another: site-specific art and locational identity
One Place after Another offers a critical history of site-specific art since the late 1960s and a theoretical framework for examining the rhetoric of aesthetic vanguardism and political progressivism associated with its many permutations. Informed by urban theory, postmodernist criticism in art and architecture, and debates concerning identity politics and the public sphere, the book addresses the siting of art as more than an artistic problem. It examines site specificity as a complex cipher of the unstable relationship between location and identity in the era of late capitalism.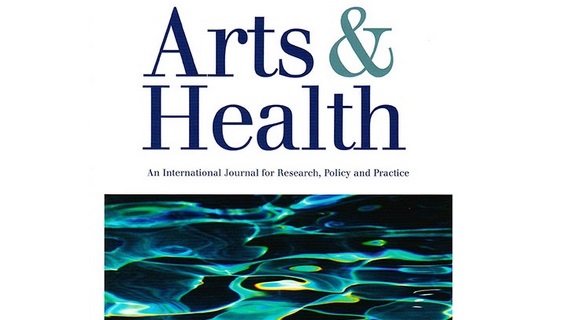 Perspectives on professional use of arts and arts-based methods in elderly care
This article discusses some key issues to consider in the development and delivery of arts-based elderly care. The purpose of this paper was to deepen the understanding of the elements affecting quality and their interplay. This is essential when developing policies and procedures for the successful use of arts and arts-based methods in elderly care. Professionals of different fields and backgrounds are using arts activities or arts-based methods with diverse aims and means in various settings in elderly care. This highlights the need for shared concepts, terminology and definitions of quality as well as a better understanding of the education and training needs of associated staff. This article suggests some tentative definitions and concepts as a basis for further discussion. It is pointed out in this paper that the quality of arts-based methods in elderly care is greatly dependent on the construction of the professional identities and competencies of those working in the field. This paper describes the different settings of arts-based work with the elderly and maps the essential competencies needed in these settings, thus providing a framework for developing quality management.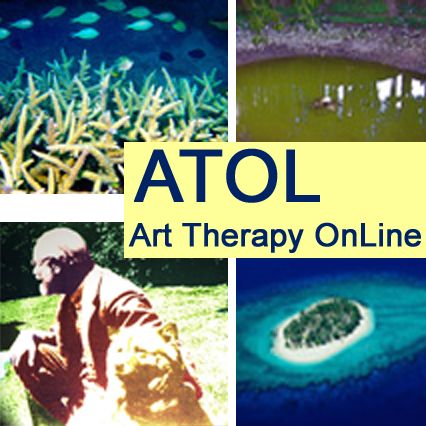 Processing Emotions and Memorising Coursework through Memory Drawing
A quantitative and qualitative research, into memory drawing, which was conducted in the year 2000, is reviewed in the article. The results of the quantitative research showed that drawing is effective for memorising. Nine weeks after the original memorisation the children recalled the median of five times more words which they had drawn than ones they had written. The qualitative case study reviewed showed the way in which coursework learning was incorporated into art therapy within a school setting. The results of the qualitative research indicated that memory drawing can help children process their emotions relating to difficult experiences. The research shows that drawing facilitates well-being, memory and coursework learning within an art therapeutic and pedagogic framework. The research findings support the aim of the SWIPE program: to facilitate well-being through the arts and interdisciplinary practices (art therapy, pedagogy).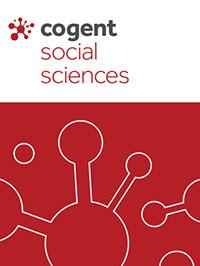 Reconstructing life narratives through creativity in social work
There is growing recognition of the benefits of creative experiences and activities in social and health care. This article focuses on social services clients' experiences of creativity and arts in their lives. Ten social services clients were interviewed about their experiences in relation to creativity or creative activities. These interviews were analysed by employing the existential-phenomenological approach. As a key finding of this research, we present a conceptualisation of how creativity enhances the reconstruction of the life narrative. The findings reveal four key aspects of how creativity is perceived and experienced as part of life, what kinds of meanings these experiences carry and what their significance is in people's lives. These are: (1) constructing coherence, (2) fostering feelings of significance and purpose, (3) constructing meaningfulness and (4) creativity in everyday life and as a spiritual dimension. We argue that creativity is essential for (re)constructing life narratives. This process subsequently enhances agency and well-being. These results deepen our understanding of the intertwined nature of meaningful life experiences and creativity. Furthermore, the results indicate that creative activities could be utilised more in social work, aiming to support people in a vulnerable position.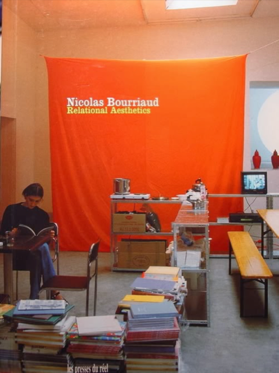 Bourriaud defined the approach as "a set of artistic practices which take as their theoretical and practical point of departure the whole of human relations and their social context, rather than an independent and private space." The artist can be more accurately viewed as the "catalyst" in relational art, rather than being at the centre.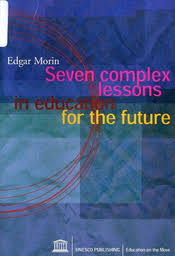 Seven complex lessons in education for the future
DOI: 10.12968/eyed.2018.20.6.38.
This book is a worthy contribution to the complex nature/disciplines of the students that apply for the master's degree. Creativity raises from different directions, whether they are "comfortable" or not. Edgar Morin argued that "uncertainty" has to be part of the discourse as well as how to handle the "unexpected". Both form part of the DNA of education and as such students are emotionally more prepared for it, if they assume it from the beginning.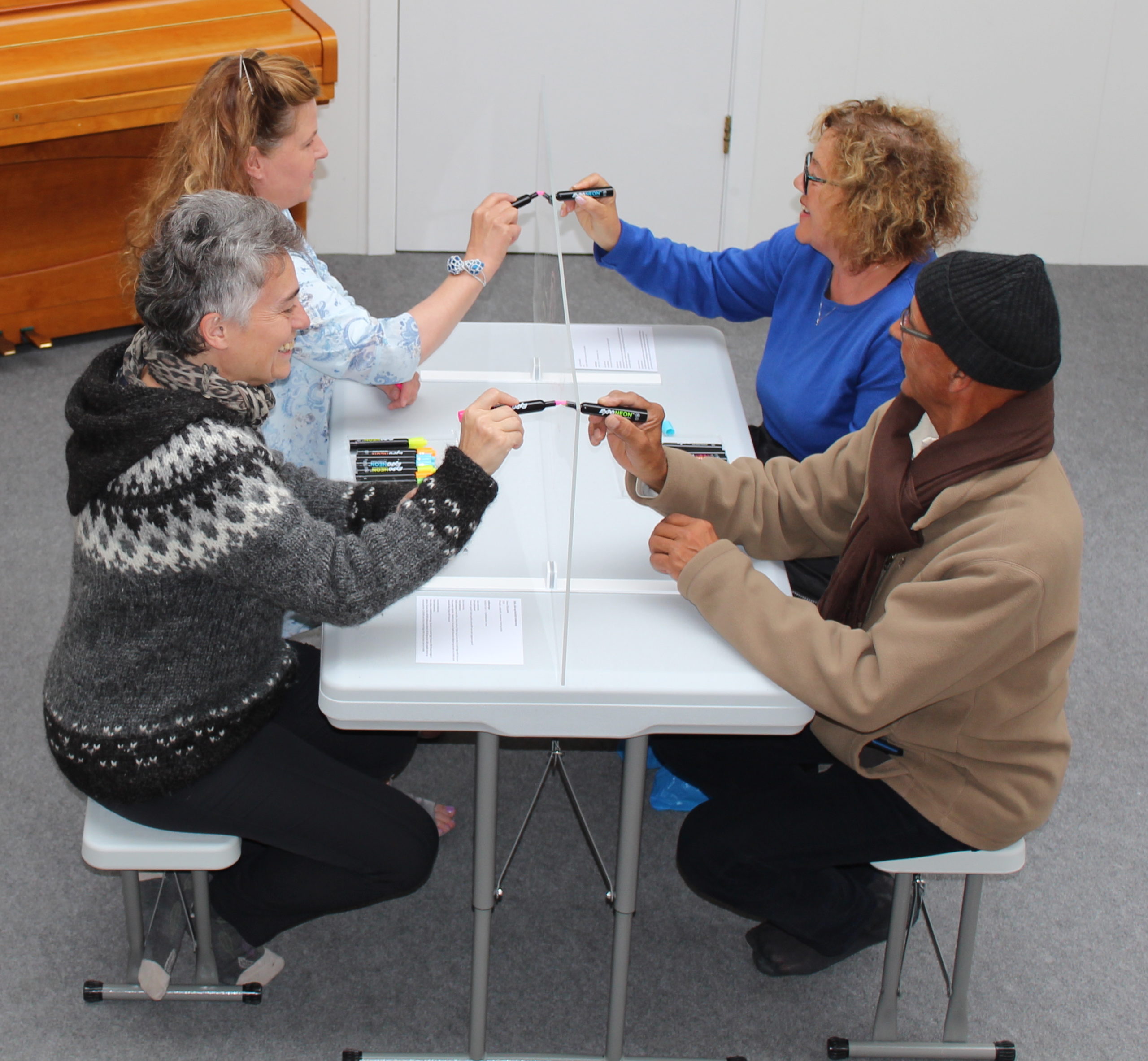 Sóló, dúó og kvartett endurvarp (e. Solo, Duet and Quarrtet Reflection)
The participants mirror each other through the drawing and their movements in the art work Reflection (2010, 2019). Mirroring from a therapeutic point of view and how to bring its function into a partishipatory art context is the core of the art project. In the light of such therapeutic thinking the audience who participate in Reflection, mirror each other through the drawing which potentially facilitates social functions including empathy which would contribute to the aims of the SWIPE program; to facilitate Social Inclusion and Well-being through the Arts and Interdisciplinary Practices. The work is interdisciplinary as it relates to both art therapy and contemporary art.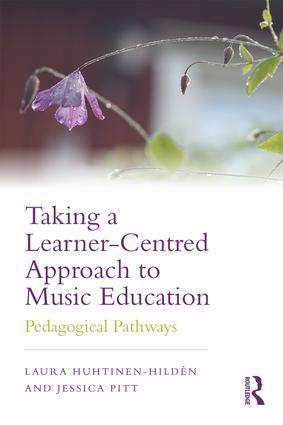 Taking a Learner-centred Approach to Music Education – Pedagogical Pathways
Taking a Learner-centred Approach to Music Education – Pedagogical Pathways is exploring the assumptions and concepts which underlie group music activities and learning. It offers comprehensive guidance on professional and pedagogical aspects of learner-centred practice. The theoretical and practical approaches in the book can be applied in facilitating creative group activities in different contexts and helps to understand the underpinnings of creative activities.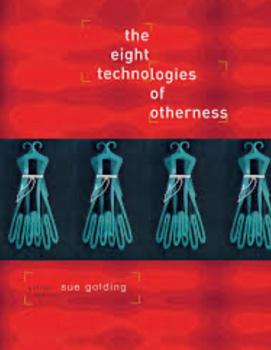 The eight technologies of otherness
The main subject of this collection of texts are what the title calls the eight technologies of otherness. It is an important book in show and explain how art is related for instance with anthropology and others social sciences that have a continuous discussion on the ways and "technologies" for approaching people from us. It is already older but the new situation that we are living now with the migrant and above all refugee's crisis put it again in the center of the discussions.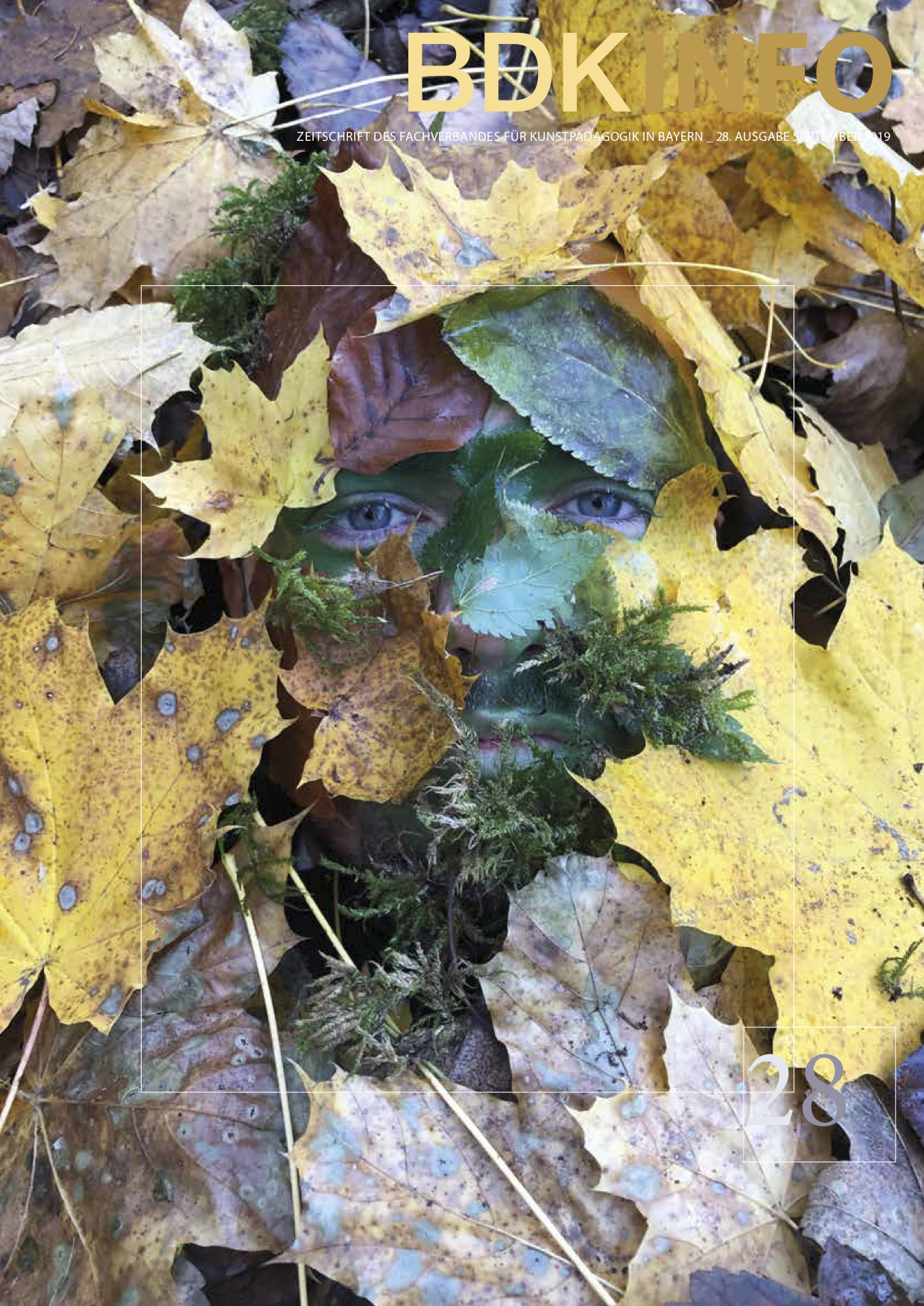 The author Roland Wenninger deals with the removal of boundaries in an art institution and on the other hand shows its limits. This examination is explained using the example of Thomas Hirschhorn's exhibition "Never Give Up The Spot" at Museum Villa Stuck Munich 2019, which was curated by the author himself. It was free of charge and was intended to be accessible to everyone. In addition, anyone could participate interactively in the installation – but also destroy it. It is an attempt to connect institutions with the street and with life through art. This example shows new approaches in museum education.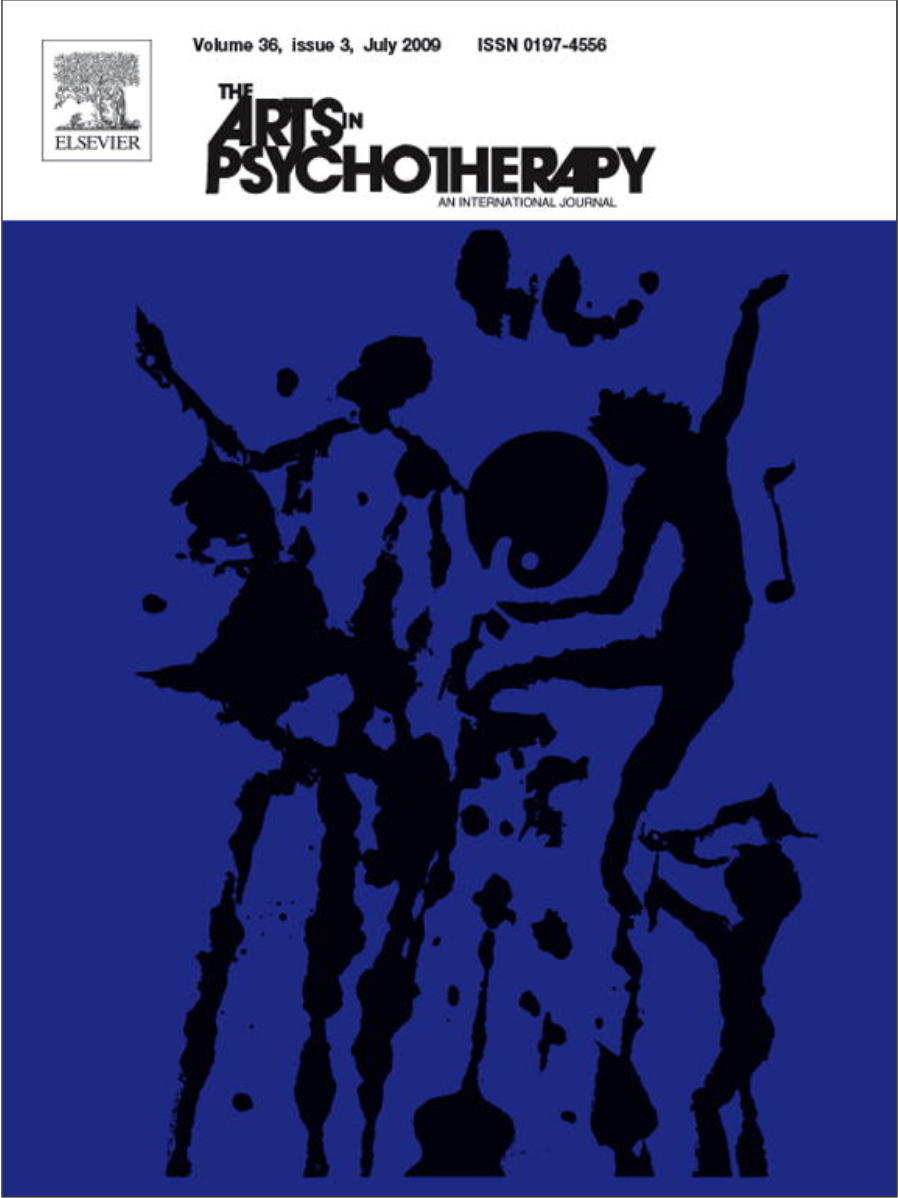 Therapeutic thinking in contemporary art
For the purpose of exploring the links between professions or moving closer towards interdisciplinary practices this is an article which makes links between therapy and art. The article is about links between contemporary art, community, politics, and therapy, with reference to work that has been made in the Museum of Contemporary Art of Barcelona. The author who is an art therapist, psychotherapist and anthropologist first discuss the contemporary role of the museums in the society. In the article the author claim that often, both in training and professional practice, there is little interaction between art therapy and contemporary art.  Work of three artists, Sophie Calle, Krzysztof Wodiczko, and Lygia Clark who have worked with relationship between community work, therapy, and contemporary art, is reviewed in the article.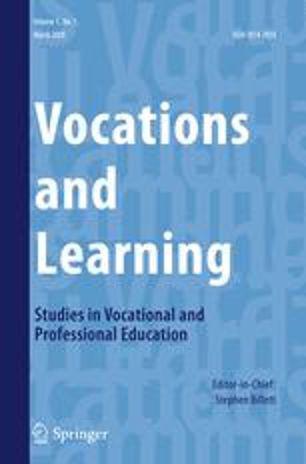 Understanding Learning Culturally: Overcoming the Dualism Between Social and Individual Views of Learning
DOI: 10.1007/s12186-007-9001-y
The concept of learning culture and cultural theory of learning as Hodkinsson, Biesta and James (2008) define it, helped analyse and get a grip on the communication that take place – or can take place – in study programme, that can be beneficiary for all. Communication should be based on respect for each individual, give space for reflection and mutual sharing of ideas and cooperation. It is through taking part in such a culture that individuals belonging to it really learn to work in group and become open and reflective in their work.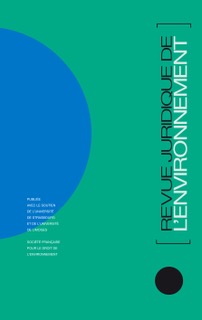 War and peace in an age of ecological conflicts
In this article, War and peace in an age of ecological conflicts, Latour raises many questions for the reader; About "us" as a group, and its composition as such. Is our race conflictive or divided? How do we perceive ourselves as humans and living with nature? He argues for the importance of taking a position and not wait for another to act. Do you fight your enemies and against irrational people?
We are not mere individuals but part of a global environment, earth. We are part of geo-politics where She is one of the active participants. We cannot ignore that, as citizens of the Earth.
https://www.cairn.info/revue-revue-juridique-de-l-environnement-2014-1-page-51.htm#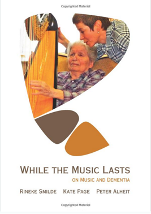 While the Music Lasts: On Music and Dementia
ISBN: 9059728467 ISBN-13: 978-9059728462
This book describes a research into the practice of 'Music for Life', a project managed by Wigmore Hall in London. The book explores theinteraction between music and dementia through the stories of people who have been working closely together: three musicians, eight women living with dementia, five caregivers, a staff development practitioner, a project coordinator and three scientific observers. This research and book is highly beneficial for any musician who wants to reach out into society, to engage with new, and perhaps vulnerable audiences. However, musicians are not the only target group. The discoveries of the study are also helpful and inspiring for caregivers of people with dementia and for families of a loved one living with dementia.